Macros are a great way to automate Excel; they give us a lot of power to interact with, not just Excel but other Office applications. Unfortunately, hackers know about this power too, and can use files containing macros to distribute malware to PCs and entire networks.
Microsoft are making changes so that any office files downloaded from the internet which contain macros will be blocked by default. While it may be frustrating to users, it ensures they stay safe online, which is of critical importance.
This change has started to roll out to those on the Beta/Insiders channel of the Office 365 subscription. Once Microsoft are happy this is working correctly, I'm sure it will be rolling out to other versions too. The applications affected are Access, Excel, PowerPoint, Word, and Visio.
As there are a lot of downloadable example files on the site that contain macros; therefore, I wanted to let you know how to unblock those files and to make sure you stay vigilant online.
Watch the video
What will you see?
Files downloaded from the internet using the Windows operating system have an attribute added to them known as the Mark of the Web (MOTW).
Previously, when users opened macro files with the MOTW, there was a warning which required the user to Enable Content.

Unfortunately, too many users were clicking Enable Content without considering whether the file is safe.
The new behavior that users will see is a message: "Microsoft has blocked macros from running because the source of this file is untrusted". This will be the same message for most files downloaded from the internet, so even safe macros will have this warning.

Clicking Learn More should take you to a web page detailing the reasons for this message and provides instructions on how to enable the file for use: https://support.microsoft.com/en-gb/topic/a-potentially-dangerous-macro-has-been-blocked-0952faa0-37e7-4316-b61d-5b5ed6024216
---
---
How to unblock a macro workbook
By adding extra steps to unblock files, Microsoft is hoping that users will only enable files they trust.
The steps to unblock a file are:
Close the workbook
Navigate to the location where the workbook is saved
Right-click on the file and select Properties from the menu

Check the Unblock box, then click OK

Now the workbook will be unblocked and the macros can now be run. It is essential to only unblock files from sources that you trust.
Trusted locations
Any workbooks saved in trusted locations will not be blocked by default. To find out which locations are trusted, or to add new trusted locations, go to File > Options > Trust Center Settings… > Trusted Locations.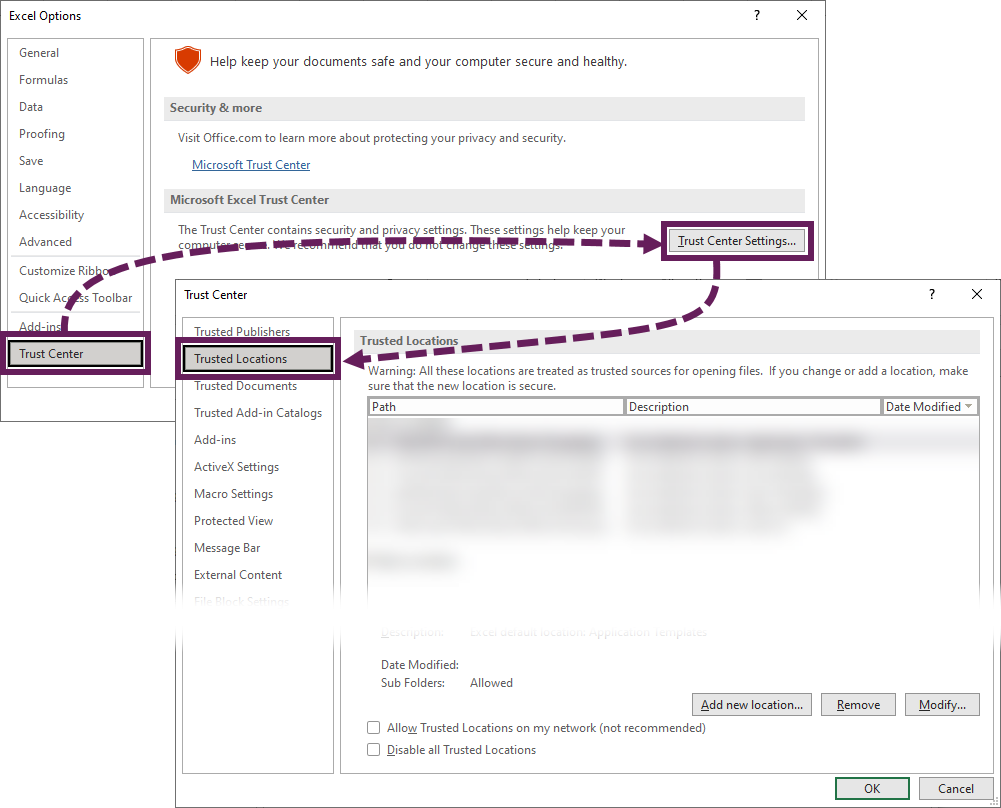 Obviously, take care to ensure files downloaded from the internet are not saved directly into a trusted location, as that will bypass this macro security feature.
What about Add-ins?
Excel VBA Add-ins should behave in the same way as before. It has been necessary to unblock add-ins for several years; therefore, this behavior is not expected to change.
Conclusion
Online security is very important, so Microsoft has taken steps to help users stay safe. While you may not have the feature that blocks downloaded macros yet, Microsoft has indicated that it is likely to roll out this feature to all versions for Excel 2013 and later (https://docs.microsoft.com/en-gb/DeployOffice/security/internet-macros-blocked).
While this is not the end of macros, this is certainly a step that will make it harder to use them.
---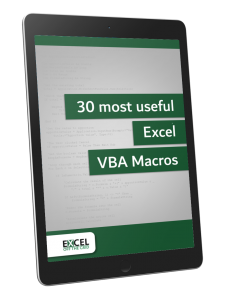 Get our FREE VBA eBook of the 30 most useful Excel VBA macros.
Automate Excel so that you can save time and stop doing the jobs a trained monkey could do.
---
Don't forget:
If you've found this post useful, or if you have a better approach, then please leave a comment below.
Do you need help adapting this to your needs?
I'm guessing the examples in this post didn't exactly meet your situation. We all use Excel differently, so it's impossible to write a post that will meet everybody's needs. By taking the time to understand the techniques and principles in this post (and elsewhere on this site) you should be able to adapt it to your needs.
But, if you're still struggling you should:
Read other blogs, or watch YouTube videos on the same topic. You will benefit much more by discovering your own solutions.
Ask the 'Excel Ninja' in your office. It's amazing what things other people know.
Ask a question in a forum like Mr Excel, or the Microsoft Answers Community. Remember, the people on these forums are generally giving their time for free. So take care to craft your question, make sure it's clear and concise. List all the things you've tried, and provide screenshots, code segments and example workbooks.
Use Excel Rescue, who are my consultancy partner. They help by providing solutions to smaller Excel problems.
What next?
Don't go yet, there is plenty more to learn on Excel Off The Grid. Check out the latest posts: